¡¡¡Once meses de frases en inglés para padres!!! Aquí te dejo las frases en inglés-español para padres. El otoño ha llegado, vocabulario relacionado con el otoño, Halloween y hacemos ejercicio juntos.
English-Spanish sentences for parents. In this occassion we learn vocabulary related to Autumn season, Halloween and we keep playing in the playground.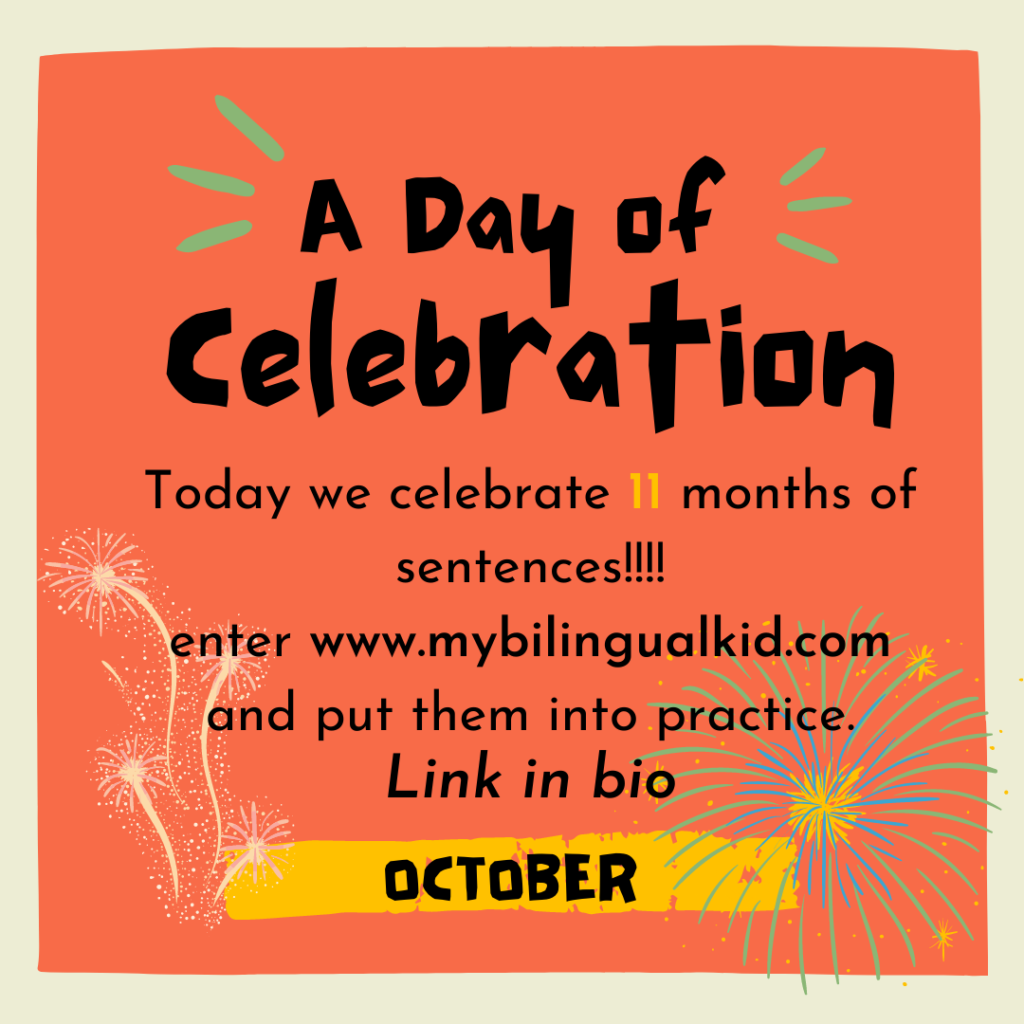 ENGLISH SENTENCES FOR PARENTS XI
FRASES EN INGLES PARA PADRES XI
1
– Do you want to go down one more time? Let's queue up (BR)/line up (AM).
– ¿Quieres bajar una vez más? Vamos a hacer la cola.
1
– Wait your turn.
Don't jump the queue. (BR)
Don't cut in line. (AM)
– Espera tu turno.
No te cueles. No te saltes la cola.
2
– Come on don't giv up, let me help you to cross the monkey bars.
– Vamos, no te rindas, déjame ayudarte a cruzar las barras.
2
– Now drop from the bars and try to land on both feet with your knees bent.
– Ahora suéltate de las barras e intenta caer sobre ambos pies con las rodillas flexionadas/dobladas.

3
– The seesaw! You sit down here, and I'll go and sit down on the other side.
– ¡El balancín! Siéntate aquí y yo iré y me sentaré en el otro lado.
3
– Hit the ground with your feet to be lifted high up into the air!
– ¡Golpea el suelo con los pies para que te levante en el aire!
4
– Do you want to keep riding/seesawing?
– ¿Quieres seguir montando?
4
– Come on, it is fun. Hold on tight, this time we are going to get higher.
– Vamos, es divertido. Agárrate fuerte, esta vez vamos a llegar más alto.
5
– You are sweating. Let's take a break.
– Estás sudando. Vamos a descansar.
5
– Come and rest on the bench for a while.
– Ven y descansa un rato en el banco.
6
– Put your cap on, it is very sunny.
– Ponte la gorra, hace mucho sol.
6
-Are you thirsty? Let's refill your water bottle in the fountain.
– ¿Tienes sed? Vamos a llenar la botella de agua en la fuente.
7
– Do you like this new Playground? It has a sandpit!
– ¿Te gusta este nuevo parque? ¡Tiene un cajón de arena!
7
– This playground equipment is different from others we have been.
– Los columpios de este parque son distintos a otros que hemos sido.
8
– Do you want to play at the ball?
– ¿Te gustaría jugar a la pelota?
8
– It seems this little boy wants to play with us.
– Parece que este niño quiere jugar con nosotros.
9
– Don't hit, that is not the way to short things out.
– No pegues, esa no es la manera de arreglar las cosas.
9
– Why don't you want to share your ball? Don't do to others what you would not want done to you.
– ¿Por qué no quieres compartir tu pelota? No hagas a los demás lo que no te gustaría que te hicieran a ti.
10
– I am afraid this time we cannot use the playground equipment; everything is socked wet and slippery.
– Me temo que esta vez no podemos usar los columpios del parque, todo está muy mojado y resbaladizo.
10
– I know you wanted to go so badly, we will come back tomorrow and stay longer than any other day.
– Sé que tenías muchas ganas de venir, volveremos mañana y nos quedaremos más tiempo que ningún otro día.
11
– Have you seen all the trees leaves laying on the floor?
– ¿Has visto todas las hojas de los árboles tiradas por el suelo?
11
– In Autumn, leaves change its colours from green to red, yellow or brown and fall from the trees.
– En otoño, las hojas cambian de color de verde a rojo, amarillo o marrón y caen de los árboles.
12
– Today is very windy. Look at the trees branches. The wind is shaking them.
– Hoy hace mucho viento. Mira las ramas de los árboles. El viento las está agitando.
12
– In Autumn, the weather turns cooler and windy.
– En otoño, hace más frío y viento.
13
– Run and step on those leaves. Did you hear the crunch?
– Corre y pisa esas hojas. ¿Escuchaste el crujido?
13
– Let's make a pile with all those leaves and jump in it.
– Vamos a hacer un montón con todas esas hojas y saltar sobre él.
14
– Autumn leaves make a crunch noise when they are dried. Do you enjoy kicking and crunching them?
– Las hojas de otoño hacen un crujido cuando se secan. ¿Te gusta darles patadas y aplastarlas?
14
– They are also very crumbly; you better don't squeeze them if you want to take them home safe and sound.
– También son muy desmenuzables; Será mejor que no las aprietes si quiere llevártelas a casa sanas y a salvo.
15
– Look they are cooking roasted chestnuts!!! Would you like to try them? Let's buy some.
– ¡¡¡Mira están cocinando castañas asadas!!! ¿Te gustaría probarlas? Vamos a comprar unas pocas.
15
– Before we start peeling them off, we leave them to cool down.
– Antes de empezar a pelarlas, las dejamos enfriar.
16
– Did you enjoy the chestnut? Would you like some more?
– ¿Te ha gustado la castaña? ¿Quisieres un poco más?
16
– This is a spoiled one, it won't taste good, better we toss it in the trash bin.
– Esta se ha echado a perder, no va a saber bien, mejor la tiramos a la basura.
17
– What would you like to do? What about make a scary craft for Halloween?
– ¿Qué te gustaría hacer? ¿Qué tal hacer una manualidad aterradora para Halloween?
17
– Let's pick up some rocks and paint them with spooky and funny faces.
– Vamos a coger algunas piedras y pintarlas con caras divertidas y espeluznantes.
18
– Listen! Daddy is in the living room. Let's scare him.
– ¡Escucha! papá está en el salón. Vamos a darle un susto.
18
– Quickly, put on this creepy mask. Now, creep up on him and shout, «Boo!»
– Rápido, ponte esta horripilante mascara. Ahora, acércate sigilosamente a él y grita, "¡Boo!".
19
– Look I bought you some spooky treats.
– Mira, te compré algunas golosinas espeluznantes.
19
– Let's go trick-or-treating around the neighbourhood with your friends.
– Vamos a pedir dulces por el vecindario con tus amigos.
20
– Knock, Knock!!! Trick or Treat,
Give me something good to eat,
If you don't I don't care,
I'll pull down your underwear. (Song)
– Canción para Halloween.
21
– Today is all saints day. Should we say a prayer for all those who passed by? We ask God to let them rest in peace in paradise.
– Hoy es el día de todos los santos. ¿Rezamos una oración por todos los que murieron? Le pedimos a Dios que los deje descansar en paz en el paraíso.
21
– Do you remember when your saint name is?
– ¿Recuerdas cuando es tu santo?
22
– Look at the window shop! They are selling "huesos de santo" (saint's bones). Would you like to try them?
– ¡Mira el escaparate! Están vendiendo «huesos de santo». ¿Te gustaría probarlos?
22
– Let's get into the bakery shop to buy something sweet to eat.
– Vamos a entrar en la panadería a comprar algo dulce para tomar.
23
– It's raining; it's pouring.
The old man is snoring.
He went to bed and bumped his head.
And he couldn't get up in the morning. (Song)
– Que llueva, que llueva, la niña/Virgen de la cueva
Los pajaritos cantan, las nubes se levantan
Que sí, que no, que caiga un caparrón
Con azúcar y turrón
Y que rompan los cristales de la estación. (Canción popular).
24
– Would you like to work out with me? Come on, is fun.
– ¿Te gustaría hacer ejercicio conmigo? Vamos, es divertido.
24
– We are going to start with some pushups. Lay down on the floor face down and try to push yourself back up with your hands palms. Keep your legs straight out. There you go!
– Por favor, quítate de en medio, hay un niño esperando para tirarse.
25
– Did you enjoy the work out session? Today we are going to practice squats.
– Cuidado, para de tirarte de cabeza es peligroso.
25
– It is like taking a seat. As if sitting in an invisible chair. Bend your knees while keeping your upper body as straight as possible and now pretend to seat.
– Tírate sentado, no boca arriba o boca abajo.
26
– Let's kick it up a notch with some sit-ups/ crunches! This is a great workout for your abs.
– ¿Está despejado el final del tobogán? Entonces adelante, tírate.
26
– Lie down on your back, bend your knees and plant your feet on the floor. Now with your hands behind your head try to lift up your upper body.
– ¡Bajaste súper rápido! ¿Ha sido divertido? Ahora aléjate del final del tobogán para que otros niños se puedan tirar.
27
– This are dumbbells. Would you like me to show you how to use them?
– Esto son mancuernas. ¿Quieres que te enseñe a utilizarlas?
27
– Ready for some weight Lifting? Grab the dumbbell in front of your thighs with your fist facing up. Slowly curl up the dumbbell to your chest and then back down again. We are going to do two sets of 10 repetitions.
– ¿Listo para levantar pesas? Agarra la mancuerna frente a tus muslos con el puño hacia arriba. Dobla lentamente la mancuerna hasta el pecho y luego vuelve a bajarla. Vamos a hacer dos series de 10 repeticiones.
28
– Come here and shake hands. Next time I challenge you to the treadmill.
– Ven aquí y estrecha mi mano. La próxima te reto a la cinta de correr.
28
– Now it is time to rest and relax.
– Ahora es el momento de descansar y relajarse.
29
– How are you today? Do you have sore muscles?
– ¿Cómo estás hoy? ¿Tienes agujetas?
29
– Do you know what is the best way to overcome stiffness? More exercise!!! Just kidding.
– ¿Sabes cuál es la mejor forma de superar las agujetas? ¡¡¡Más ejercicio!!! Es broma.
30
– Have you felt the electric shock when you touched me? It made a creepy noise.
– ¿Has sentido la corriente cuando me tocaste? Hizo un ruido horrible.
30
– We better don't touch each other for a while, you Keep Shocking Me.
– Será mejor que no nos toquemos durante un rato, sigues dándome corriente.
31
– Have you ever tried to rub a balloon against your hair?
– ¿Alguna vez has intentado frotar un globo contra el pelo?
31
– Now that it is charged with electricity, try to stick it to the wall. See? It doesn't fall.
– Ahora que está cargado de electricidad, intenta pegarlo a la pared. ¿Ves? No se cae.